Please see the several photos of migrants which were honoured at the 2015 World Press Photo Awards, including the 1st Prize won by an Australian photographer for a picture taken at the border between Serbia and Hungary.
A very impressive portrait of the persistence of economic and political oppression and of the resilience and courage of migrants: despair and hope combined as the hallmark of our common humanity.

– François Crépeau
—
A grainy black and white image of a migrant passing a baby under a barbed wire fence from Serbia into Hungary has taken first prize in the 2015 World Press Photo awards.
Taken at night on 28 August last year by Australian photographer Warren Richardson, this man and child were part of the movement of people seeking to cross into Hungary before a secure fence along the border was completed.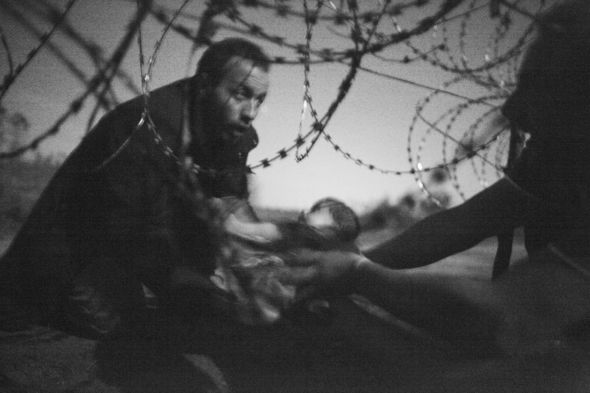 "Early on we looked at this photo and we knew it was an important one," says Francis Kohn, chair of the jury.
"It had such power because of its simplicity, especially the symbolism of the barbed wire," Mr Kohn, who is also photo director of Agence France-Presse, added.
"We thought it had almost everything in there to give a strong visual of what's happening with the refugees. I think it's a very classical photo, and at the same time it's timeless."
The World Press Photo awards have been running since 1955. This year, 41 photographers from 21 nationalities were awarded in eight categories.
Sergey Ponomarev, for The New York Times, won first prize in the General News (Stories) category for "Reporting Europe's Refugee Crisis" which included this image of a man in Tovarnik, Hungary, attempting to board a train headed to Zagreb, Croatia.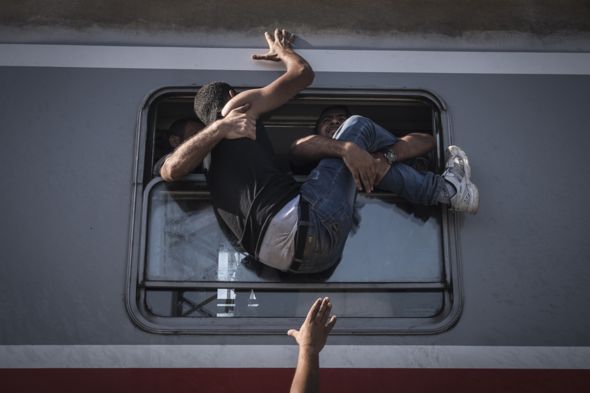 Mauricio Lima, also for The New York Times, won the General News (Singles) prize for this next image.
A doctor rubs ointment on the burns of a 16-year-old fighter for the so-called Islamic State, at a Kurdish hospital compound on the outskirts of Hasaka, Syria on 1 August, 2015.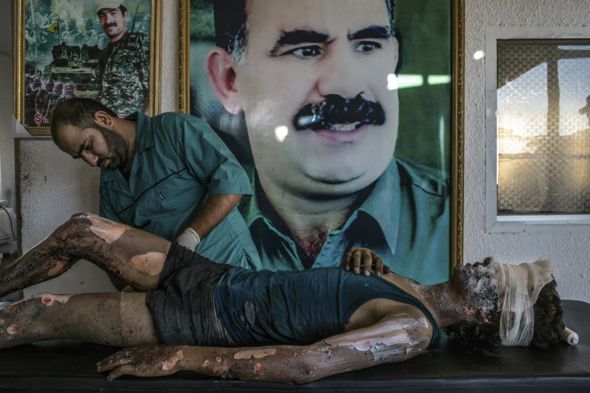 Corentin Fohlen took second place in the Spot News (Singles) prize for his January 2015 photo of an anti-terrorism demonstration in Paris, following the series of attacks which began at the offices of satirical magazine Charlie Hebdo.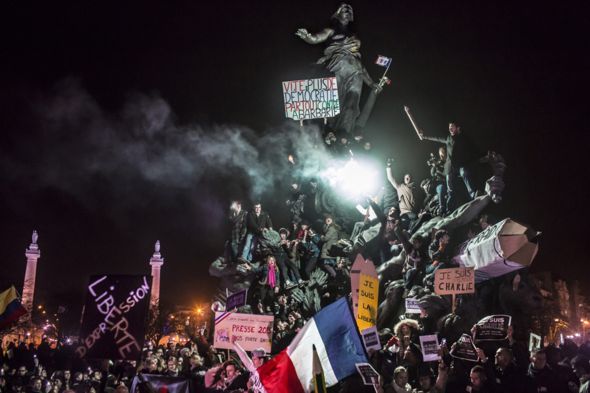 A photo of boy being taken from rubble after airstrikes in the city of Douma, Syria was taken by Sameer Al-Doumy.
From his series "Aftermath of Airstrikes in Syria", it took the top prize for Spot News (Stories).
[…]
—
You can view the full article here.
You can view the full set of prize-winning images at www.worldpressphoto.org.